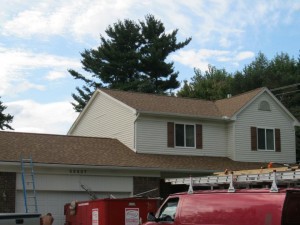 First impressions are everything. According to bankrate.com, a good first impression can add as much as 10 percent to the value of the home. At Coverall, we offer a range of services including roof repair and new construction, as well as new shingles, gutters, and siding designed to make your home stand out from the crowd.
1. Roofing
2. Shingles
Damaged and missing shingles not only lead to moisture that can compromise the integrity of your roof, but they can also detract from the curb appeal of your home. At Coverall, we use Owens Corning TruDefinition Duration series shingles, designed to withstand winds up to 130 mph. We will also work with you to pick a style and color that matches the aesthetics of your home.
3. Gutters
You may not know this, but one of the best ways to improve the curb appeal of your home is to add gutters that match your home's style and color. At Coverall, we offer multiple color options, to fit any house and make your home shine.
4. Siding
When you pass by a home, what catches your eye first? Usually, it's the color of the home, as well as the size and style. If you've ever tried to give directions to someone, you'll know what we mean. With new modern siding installed by Coverall, we will ensure your home has the proper insulation and ventilation, while adding value to your home and reducing energy consumption costs.
If you have any questions about how you can increase your home's curb appeal and property value, please contact Coverall Roofing today!
About Coverall Roofing
Coverall Roofing is a family-owned
roofing
company located in
New Haven, MI
. Established in 2000, we began working mainly in Macomb County, but now service the entire Detroit Metro area. Our employees are active in the community, supporting youth sports and community groups, as well as other local businesses. We believe that strong communities are built when businesses and consumers work together.