High-Quality Roof Repair
Preserve the life of your roof in Farmington, Rochester, Troy, New Haven, Grosse Pointe, and nearby MI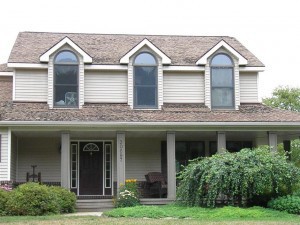 Crumbling shingles were leaking inside this local home.
Is your roof suffering from broken, torn, or missing shingles? Or do you have a roof leak, dark spots on your roof, or obvious signs of storm damage? All of these require a professional contractor to complete roof repairs. Entrusting this task to a rookie is a costly mistake you'll pay for over and over again in the long run, so choosing the best contractor for the job should be your top priority.
Here at Coverall Roofing, we have over a decade of experience of experience performing roof repair and maintenance services for Tri County Michigan Area homeowners. We know the signs of damage to look for and the best solutions for each type of damage, no matter how big or small they might seem. Our goal is to save you money and keep your family safe by rapidly addressing any problems your roof might have.
To discover which of our roofing services is right for you, schedule a free estimate today! We serve residents of New Haven, Rochester, Farmington, Troy, Grosse Pointe and areas nearby.
Customer Reviews
"Prompt for appointment and very professional"

By Tammy T.
Washington Township, MI

"Coverall Construction has completed 3 roof jobs for us. We have been very..."

By Mike F.
Farmington, MI

"Great job and courteous staff"

By Tammy L.
Auburn Hills, MI

"The ONLY company to come out for small roof repair! And LADIES, an HONEST..."

"We love Nick n Adam. The crew we had was fantastic and very friendly."
Hail is a common cause of serious roof damage
All homeowners dread hailstorms because of the costly and extensive damage golfball-sized hail can do to their properties. Hail damage to roofs is especially catastrophic because it can seriously impact the integrity, appearance, and value of your roof, which has a negative effect on the rest of your home.
Additionally, all roofs respond to hail impact in different ways, so a less qualified contractor might not be able to complete adequate repairs. Here at Coverall Roofing, we have the skills and products necessary to restore all kinds of roofs. We won't stop until you are completely satisfied with our repairs and we feel confident that we're leaving you with a safe, strong roof.
Don't forget to inspect roof ventilation
While roof ventilation and ridge vents don't normally directly impact the safety of your roof, making sure they're in good shape can do a world of good for your home. The roof and attic below is easily the hottest part of your home, especially during the summer as the sun shines on it all day. Good roof vents will help cool this part of the home and prevent your air conditioning from overworking, saving you money on utilities.
During the winter, roof vents help to keep the roof cool, preventing ice dams from forming and increasing your roof's capacity to do its job. Coverall Roofing can help with roof ventilation and ridge vent repairs, keeping your home working as efficiently as possible!
Schedule a free estimate for roof repairs today
Even if you think your roof issue is no big deal, you'll enjoy peace of mind and security by ensuring the integrity of your roof. We've seen too many roofs fall into far worse shape than they would have if their owners had simply made an earlier call. Let us help you save money with our roof repair services!
Coverall Roofing's experienced technicians are ready to get started on your roofing project. Call us at 1-844-386-0552 or contact us online to schedule a free estimate in Farmington, Rochester, Troy, New Haven, Grosse Pointe, Sterling Heights, Macomb, West Bloomfield, Clinton Township, Waterford, Saint Clair Shores, Utica, and throughout the surrounding areas!